Charitable Unitrust - Palmer and Norma Watson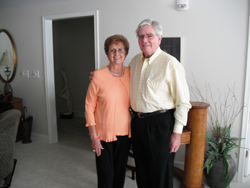 Palmer and Norma Watson live in the Taylor Glen retirement community in Concord, not far from where Palmer grew up in Richfield, N.C. He and Norma have been married for 61 years and also lived at Lake Norman for many years.
Palmer gained work experience as an electrical inspector before deciding to start his own business. He retired two years ago from Watson Electric, a company he started 47 years ago. Norma is a former church organist and piano instructor. Palmer is musical as well. He sings in a men's choral group now.
The Watsons have been generous with time and money to Wingate University. After serving two four-year terms on the Board of Trustees, Palmer became a lifetime member. He has served on the board for more than 12 years. He enjoys playing golf with Dr. Jerry E. McGee, he said.
Palmer and Norma Watson purchased stock in a financial company a number of years ago. The stock turned out to be a good investment and increased in value. They were ready to make a gift to the university, but were told by their tax advisor that if they were to sell the stock there would be a large capital gains tax. They were happy to discover that they could transfer the stock into a special trust. The trust is called a unitrust. When they transferred the stock into that trust, it can then be sold tax free. The benefits of this type of trust include: bypass capital gain, increase income and a charitable deduction.
For more information, contact Ted Johnson, Director of Planned Giving at Wingate University: 704-233-8105 or
tjohnson@wingate.edu
.