Charitable Gift Annuity - Daniel and Dot Jones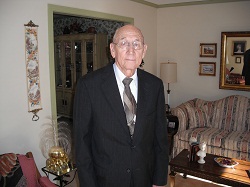 Daniel graduated from Wingate College in 1941. "I had happy years at Wingate," he said. "I got a better education in two years than many people get with a four year degree." He studied mostly sciences, including botany, biology and chemistry while a student at Wingate.
He retired from Boise Cascade as Region Purchasing Manager, Southeast Region, Timber and Wood Products Group. He earned his CPM certification (Certified Purchasing Manager) and was granted lifetime certification by the National Association of Purchasing Management. A native of McColl, S.C. he has lived in Sanford, N.C. since 1964. He stays active working in his yard and garden and is a long time Boy Scout leader, serving now as scouting coordinator at his church, Saint Luke United Methodist Church.
About Charitable Gift Annuities
A gift annuity allows a payout based on age. Plus, there would be a charitable tax deduction and part of the income would be tax free. Since your gift annuity benefits under federal rules may vary, you may want to contact Ted Johnson, Wingate University Director of Gift Planning at 704-233-8105 or
tjohnson@wingate.edu
for more information.