Retirement Unitrust - Sam and Sandy Welborn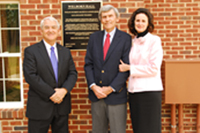 "Wingate was good to me," said Sam Welborn '69.
Sam completed his studies at Wingate after returning from Vietnam. He had heard about Wingate from the minister of a Baptist church in Winston-Salem. "Without the school, I don't know where I'd be," he said. He remembers Harry Sherwood as one of his teachers but more of a mentor to him. While at Wingate, he met a fellow student who introduced him to his wife, Sandy.
Sam worked at 3M - Minnesota Mining and Manufacturing for 28 years as a sales representative before his retirement.
Sam and Sandy, who live in Nashville, TN, keep a strong relationship with the University. Recently, Welborn Hall was dedicated to them in appreciation of their generosity to the University. "A small school like Wingate gives an opportunity to people who need it," Welborn said.
With Sam retired and Sandy's retirement only a few years away, the Welborns were looking for a way to sell their highly appreciated stock, generate income for the future and avoid paying high capital gains tax. The plan that worked best for them was a Charitable Remainder Unitrust with a flip provision. Sam and Sandy decided to make a gift of their appreciated stock to establish a charitable remainder unitrust. The trust then sold the stock tax free. Since the Welborns did not need the income while Sandy was still working, they chose to defer income payments to them until a date of their choosing, in this case Sandy's retirement, and they allowed the trust to grow. By not taking income until they needed it the Welborns were able to substantially increase the amount of income they would receive for their retirement years.