IRA Gift - Don Hill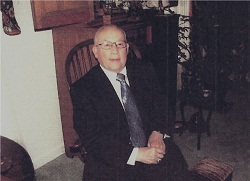 Don Hill retired as a pharmacist, but he didn't retire from helping people.
After working as a pharmacist in New York and Charlotte, he settled in Charlotte where he had worked the most. He is one of six serving on the Board of Directors for the Pharmacy Network Foundation that the group formed ten years ago to help pharmacy students. On average, the foundation donates a million dollars a year to various pharmacy schools, including Wingate University. Hill also serves on the Wingate University Board of Trustees.
An ordained minister with a bachelor of divinity and a master's degree in theology from Southeastern Baptist Seminary in Wake Forest, N. C., he attends Sardis Baptist Church in Charlotte. He has been widowed for six years, having been married to a gifted musician, Bestelle Powell Hill.
About IRA Gifts-
Don has been involved with Wingate University for a number of years. Recently he decided to establish an endowed scholarship by designating Wingate University as beneficiary to his IRA. Fifty percent of the annual distribution will go to scholarships in music and 50% will go to scholarships in pharmacy.
By giving the IRA to Wingate, he could make a nice gift and avoid any additional tax for his estate and children. Don contacted his IRA custodian to obtain a beneficiary designation form. He filled out the form and designated the university as the 100% recipient of his IRA account. Don was pleased that because our organization was a tax exempt institution, the university would receive the full amount of the IRA value when he passed away, creating a legacy for the future.