Deferred Gift Annuity - Sam and Sandy Welborn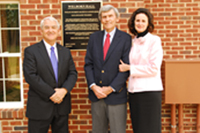 "Wingate was good to me," said Sam Welborn '69.
Sam completed his studies at Wingate after returning from Vietnam. He had heard about Wingate from the minister of a Baptist church in Winston-Salem. "Without the school, I don't know where I'd be," he said. He remembers Harry Sherwood as one of his teachers but more of a mentor to him. While at Wingate, he met a fellow student who introduced him to his wife, Sandy.
Sam worked at 3M - Minnesota Mining and Manufacturing for 28 years as a sales representative before his retirement.
Sam and Sandy, who live in Nashville, TN, keep a strong relationship with the University. Recently, Welborn Hall was dedicated to them in appreciation of their generosity to the University. "A small school like Wingate gives an opportunity to people who need it," Welborn said.