Gift of Life Insurance - Dr. Mark Thompson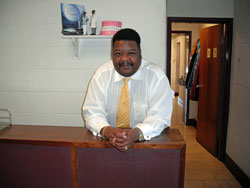 Dr. Mark Thompson likes to stay busy. He enrolled at Wingate College and joined the Marine Corps POC at the same time. When school wasn't in session, he was on active duty in Quantico.
After graduating in 1974, he continued his education at Western, majoring in biology. He went on to dental school at Howard University and now has a busy dental practice in Raeford, N.C. He has served on the Hoke County Board of Health.
He and his wife, Michelle, live in Fayetteville with their three daughters: Stephany, Symone, and Sasha. He enjoys reading and traveling when time allows.
And he fits in time to help Wingate University.
The mission of Wingate University has been important to Mark, and he has provided generous support to the University with his current gifts. One of his desires was to create a legacy that would provide future support to continue the University's work. The plan he created involved the gift of a life insurance policy to Wingate. By naming the university as both owner and beneficiary of his life insurance policy, he will be able to make a significant gift to the school at the time of his death, while at the same time the premium he pays each year becomes a tax deductible gift. As an added benefit, by including Wingate in his estate planning he becomes a member of the Society of 1896 which is the university's planned giving recognition society.
For more information, contact Ted Johnson, Director of Planned Giving at Wingate University: 980-699-7094 or
[email protected]
.