Bequests for Scholarships - Meredith Galvin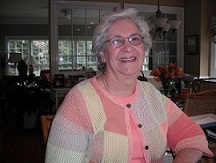 Although Meredith Galvin left the Wingate campus as a student years ago, she continues to visit and remains an active volunteer serving on the Board of Visitors and the Board of Trustees. Having grown up in Huntersville, she moved to Davidson, just six miles from her hometown and still close to the town of Wingate.
Meredith Galvin graduated from Wingate University in 1962 when it was a two-year college. She continued her education at ECU and after graduating became an elementary school teacher in Charlotte-Mecklenburg schools. Seventeen years ago she retired from teaching after 30 years.
As a retired school teacher, she knows the value in education, but also the value in a complete education beyond the classroom. "Long-lasting friendships and wonderful memories have kept me connected to the University over the years," Meredith said. "Through the Meredith Osborne Galvin Endowed Scholarship, I hope to enable future students to not only get an education, but the chance to establish lifetime friendships and memories like I did."
She continues to keep up with many of her Wingate classmates and oftentimes gets them involved in volunteering. Her strong ties with the University and her Wingate friends have truly stood the test of time. As time moves on, she continues to help Wingate students.
More about Bequests -
Sample Bequest Language:
You also may want to make it easy and convenient to have a bequest included in your will. The language below shows how a bequest can very easily be included in your will.
"I give, devise, and bequeath (the sum of/percentage of/specified asset/residue of my estate) to Wingate University, a non-profit organization with principal offices in Wingate, North Carolina, to be used for its general charitable purposes."
You might find it helpful to select the "print" button below and print this page. Please feel free to give this information to your attorney. If he or she has any questions, please have him or her contact Ted Johnson at phone number 980-699-7094 or email us at
[email protected]
.