IRA Rollover - Ed West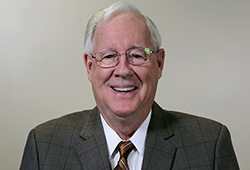 "My participation in having an IRA Rollover really came by accident. A notice came to me from my plan administrator that my interest rates for my annuity were going down significantly, so we met. While in the meeting with my broker, he took a call from another client. I overheard him talk about an IRA rollover to help him save a bunch of money by avoiding being pushed into another tax bracket. He would have his required minimum distribution go directly to his charity. I asked how I could do the same. He told me to call or write my plan administrator.
I did this and continue to do it because Wingate is doing great things and is growing in the right direction. We have room to grow, the right programs aligned with community needs and the right leadership that hasn't forgotten his roots. I am investing in Wingate's future because I had help and honestly, we've all had help so we are investing it forward."