Frank Cagle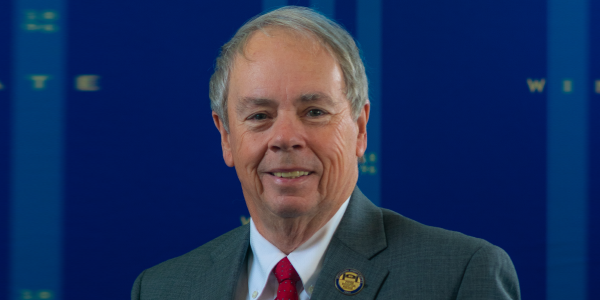 Frank Cagle was far from a star student in high school. But the longtime banking executive (Cagle retired in 2012 as a senior vice president after nearly four decades at BB&T) says Wingate Junior College opened the right doors for him and made sure he was prepared to walk through them.
"I am not sure where I would be today if it wasn't for Wingate College letting me go to school there," says Cagle, a 1971 alum, University trustee and charter member of the Board of Visitors. "My parents had instilled in me the drive to survive and prosper, but Wingate gave me an opportunity."
Growing up in northeastern North Carolina, Cagle learned to work hard and to hunt and fish - passions his father appreciated and encouraged.
"My father was a well-educated man with a mechanical engineering degree from Clemson, but he didn't like to be indoors all the time, so he worked as a brick mason. That way he could see what he had accomplished in a day's time. And he could have time to hunt and fish," Cagle says.
In fact, the senior Cagle so appreciated the outdoors that he wrote a letter to his son's assistant principal giving his permission for Frank to miss class every other day to go hunting.
"I'd coon hunt all night, sleep in class the next day, and sit up in a deer stand the next morning," Cagle said. "I wasn't a good student, but my parents pushed me hard to make good grades."
After graduation, the college acceptance letters were slow to arrive, but Cagle's mother was insistent that he pursue a degree, and Wingate offered him admission.
"I was so late getting in that the dorm was full so I lived with Mr. And Mrs. Tom Walters. He was the mayor at the time and lived about three blocks from the college," Cagle says. His roommate went home most weekends, giving Cagle plenty of quiet time.
"I couldn't go hunting and fishing and I had no car, so it worked out perfect for me, as kind of a wake-up call that I needed to study. I didn't know what I wanted to do, but I figured I needed an education, so I started studying," he says.
He remembers taking four semesters of Spanish with Fulbright scholar Helen Cowsert and the much-needed help he got from legendary English professor Francis Vick.
"I was not that great in English, but I remember writing papers, and when she graded something, Mrs. Vick took time to talk to me about it and explain it," Cagle says. "I learned a lot of things in her class that I should have probably learned earlier, but she was patient."
As Cagle got more comfortable at Wingate, he turned his ambitions to politics, deciding to run for class senator.
"I lived off campus; no one knew me; and I had never been involved in anything in high school, but I decided to run. I went and bought wanted posters and put my picture on them with 'Wanted for Class Senator, Frank Cagle,'" Cagle says. "And I won."
The campaign and his subsequent work representing fellow students helped prepare him for his career.
"It helped me learn to be in a public setting, be in front of people, talk to people," Cagle says.
After finishing his two years at Wingate, Cagle went on to Wake Forest University, where he earned a bachelor's degree in economics. A coin collector as a child who learned the basics of finance from his father, he was drawn to banking.
"It intrigued me. And I was always a people person and a fixer. I love trying to figure things out," Cagle says. As his WFU graduation neared, he requested interviews with the nine largest banks in the state and got two job offers, landing at BB&T, where he would spend the next four decades. For much of that time, he worked in Davidson County, where he and other Wingate alums set up a scholarship fund to benefit local students.
"All of that goes back to wanting to give back to the University," says Cagle, who lives in Lexington. "I got so much support there, with the family atmosphere, that I knew I needed to give something back. It's a great university; they'll survive with or without me. But I can do my part."
His part has not only included working to set up the Davidson County scholarship fund, but also serving on the University's Board of Visitors and Board of Trustees and setting up a bequest.
As a member of the Board of Visitors, he enjoyed helping raise funds for grants that he knew would give students and faculty members expanded opportunities. He persuaded BB&T to contribute $25,000 in BOV grant funding over five years and helped secure a separate $500,000 contribution from a bank executive. And he has earmarked funds from his estate to go to Wingate.
"Some people have enough liquid assets to make large immediate contributions. I can't give Wingate $50,000, but when I pass away, there will be money there," Cagle says.
He believes every alum should give to the University.
"Maybe you can't now, but can in the future. If you just graduated and maybe you don't have the funds to give a lot, give $5 or $25. Give what you can," Cagle says. "I would like to see the students start early, giving $5 or $10."
Cagle remains a big fan of Wake Forest and Louisiana State University, where he also studied, but his heart remains at Wingate.
"I have a love for Wingate. I think that it's because of the nurturing and caring I got there," he says. "They loved me and I loved them back."